LATE AS USUAL, WE HOPE TO HAVE ISSUE 9 OUT FOR APRIL 1st.
Busiting at over 50 pages, Issue 9 is due out on April 1st.
We apologise for the delay, but promise it will be worth it!!!
---
Current Issue:# 8 featuring poems from

Anthony Sullivan (Ireland) , L. Summerton Morgan (USA), Tomás Ó Cárthaigh (Ireland), Spiros Kitsinelis (Greece / France), Hal O Leary (USA), Matthew Walz (USA), Tatjana Debeljacki (Serbia), Lizzie Corsi (USA) Bernard Lorimer (Northern Ireland), Randall Aittaniemi (USA), Sabahudin Hadžialic (Bosnia and Herzegovina), Deepak Chaswal (India), Erica (USA). Kathy Coman (USA), Kim Wilson (USA), Gonzalo Salesky (Agentina), Rishan Singh (South Africa), Luiza Flynn-Goodlett (USA), Irena Jovanovic (Serbia),Dan Castle (USA), Greg Gunn (Canada), Lisa McCraw, (USA), Matthew Bell (Australia), Laura Cleary (Ireland), Niall O Conner (Ireland) Evin Okçuoglu (Turkey), Simon Rhee (USA), Elizabeth A. Fontaine (USA), Luana Stebule (Lithuania), Barbara Wühr (Germany / France), Frank C. Praeger (USA)
---
Cartys Poetry Journal, an online magazine of poetry published in the Irish midland town of Tullamore.
The aim of the journal is to bring a voice for traditional poetry to the masses, alongside the more contemporary and avante garde formats.
We aim to give voice to new Irish and international writers, alongside their more established counterparts.
Issue 8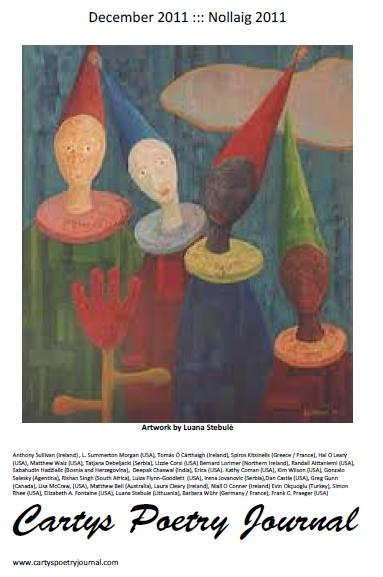 Past issues are being formatted in HTML on the site, as well as being in PDF format.